LATISSE® in Orange County
With age our body goes through many changes, including a decrease in the growth of our eyelashes. Like our hair, they tend to grow less, fall out more, and change pigment to the troublesome grey. To help counter this there is only one FDA-approved product, Latisse® - now available in  Orange County - that has proven to grow lashes longer, fuller, and darker.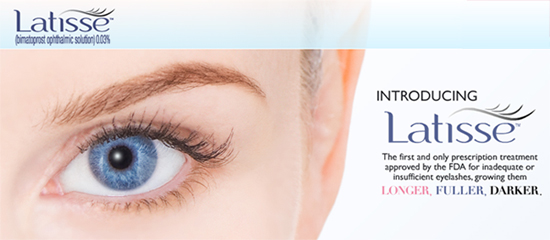 Latisse® is a prescription treatment available in the Orange County Area for hypotrichosis—having inadequate or not enough lashes. It has been approved by the FDA to be used for increasing eyelash growth, making them longer, fuller, and darker. The Latisse® solution is applied to the base of the upper eyelashes once a day using the sterile application brushes that are provided. It is important to remember that fabulous lashes don't happen overnight; you must be patient and continue to use the product consistently every day. You will start to see results around week 4, with full, dramatic results at week 16. It is important to know that if you discontinue Latisse®, your lashes will gradually return to their previous state.
Call 714.918.8888 to find out more information regarding Latisse® products.